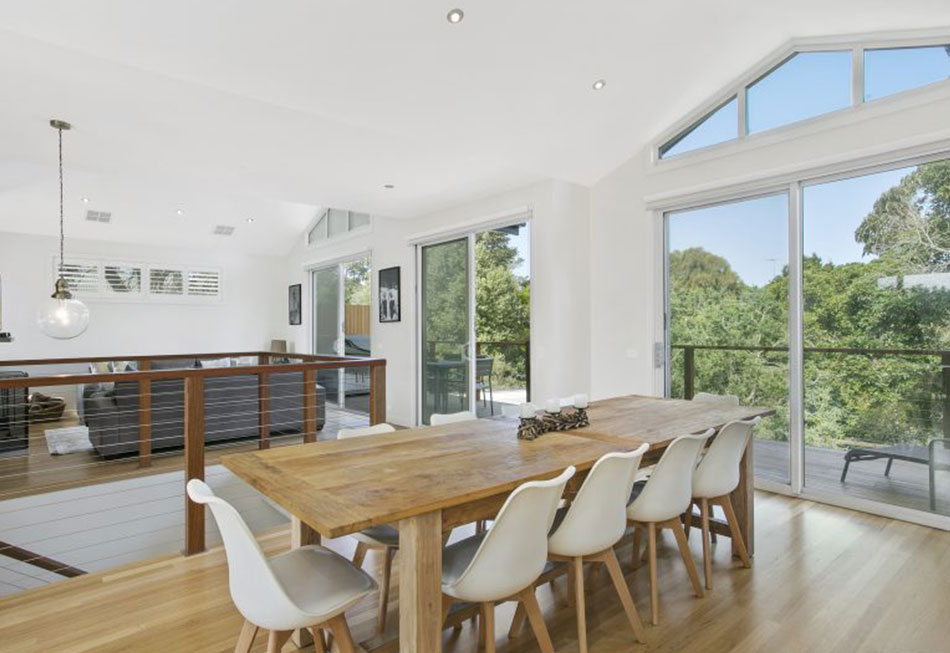 Pros and Cons of Reverse Living Home Designs
Home designs come in a multitude of concepts and layouts. Your home should fit your lifestyle and vision of comfort. Visitors should be able to immediately tell this is your home, simply because the design fits your personality to a T.  – Reverse Living Home Design is one of them.
Designs can also provide unique twists on the standard layouts. One such twist is a "reverse living floor plan".
What Is A Reverse Living Floor Plan?
In a reverse living home, the kitchen, the main living areas, the master bedroom/ensuite and powder room are upstairs, while the other bedrooms are downstairs, as opposed to the traditional layout of the kitchen being downstairs. In short, the first storey serves as a basement while all the worthwhile activities happen upstairs.
The trend started in Nordic countries but soon gained admirers in Australia, who were enamoured by the layout's potential to showcase the vistas surrounding the house. Whether the house is in bushland, an open country space or on the coast, an upstairs living space gives a majestic vantage point throughout the day.
Benefits of Reverse Living
Amazing Views
The second-storey living space allows for raised ceilings, giving more freedom to the interior designer and space to highlight stunning features. Sunrises showcase the availability of natural light, making the surrounding area and the interior bask in the golden glow. Sunsets offer the perfect closing to a day with a memorable moment worth cherishing and sharing.
The panoramic view is enhanced by the second storey vantage point, revealing fine details of the nearby region. Coastal and country holiday homes are especially rewarding when combined with the reverse living design, providing plenty of opportunities to take in the view. This is especially true when near waterways, which are most often hidden by trees at ground level.
Energy Efficiency
Energy Efficiency brings a variety of benefits: reducing greenhouse gas emissions, reducing demand for energy imports, and lowering our costs on a household and economy-wide level. – eesi.org
A downstairs bedroom is a cool idea, as the layout shields it from the searing heat, providing a comfy place for rest while also reducing the need for air conditioning.
A second-storey area with large windows allows for better ventilation as well, attracting a cool breeze. With more smart design choices, the living quarters can be cooled and lit up better at a lower cost, increasing health and comfort.
Skylights add to the airy, ethereal feel of the living space but also let in more light and more air, cutting down on lighting and air conditioning costs. As the hot air rises to the ceiling, a skylight allows it to escape while letting in fresh gusts of oxygen. Depending on its orientation, a skylight can provide more light or air, giving you much more freedom in optimizing energy savings.
A movable skylight covering can be installed too, providing shade as needed, or the skylight can be installed in the shade of a tree.
Enhanced Privacy
Hedges, fences and curtains are the most common way to protect your privacy on ground level but those features also block out the sun, making the ground level living area feel like a dungeon cell.
In a reverse living home design, there is no reason to block out the view, giving the upper living quarters superior privacy at no added cost. Such a layout also lets the occupants engage in people-watching without coming off as intrusive, since humans rarely look up unless prompted.
Family Space
The house being zoned so it has a dedicated family space makes for more quality time together and also reduces the feeling of an empty nest once the kids grow up and move away. If other family members move in, there's already an established family space for them, minimizing the trouble of setting boundaries.
Uniquely Entertaining
The uniqueness and the added entertainment value of a reverse living home design act as a fine selling point to boost the property value. There is so much space here that you can segment in any way you please, creating distinct niches for private conversations.
The upstairs balcony is the crown jewel of the upstairs space. It can be filled with potted plants or it can open above a garden or feature a hot tub but that's just the start.
Cosy seating, perhaps with cushions and plushy cloth, makes for a pleasant lounging area to relax and have pleasant conversations in. Wicker chairs add a note of rustic warmth but so do soft hanging lights, potted plants and creeping vines.
Quirky hanging plants, such as the spider plant (Chlorophytum comosum), make a solid ice breaker and offer a pleasing backdrop to any other decorative choice. A dining table can fulfil its function while also serving as a decorative statement. Coupled with a fresh coat of colour, the entire balcony area naturally attracts the gaze and invites the curious mind for exploration.
The sofa on the balcony looks out but is backed by a row of container plants, making it so that people sitting on the sofa can't be seen or heard by those in the living area. Pots on lightweight supports can be used too, creating a moveable green screen that is great for parties and can be easily slid over for repairs. Trellised vines can serve the same function while also acting as a welcome distraction.
The balcony can feature panels, ornamental ironwork or lattices but also a hanging bed for weary travellers. When done in soothing sky-blue colours, the bed simply invites for a comfy nap, with chirping birds and distant murmuring noise lulling you to sleep.
Privacy for children
Children's bedroom in this layout is most often situated downstairs. With the main bathroom downstairs as well and the master suite being upstairs, children have as much privacy as they need.
Shy teens in particular appreciate the added privacy and the idea of being able to romp or turn up the volume without bothering the parents. The notion of them having the ground floor all to themselves also helps teenagers feel mature and adopt responsibilities without adults hovering over them.
A downstairs media or rumpus room gives them more space to bring their friends in and study or spend time together. It can be turned into a game room as well, with custom LED lights providing for a custom glow around the mounted screen.
Even in a cramped space, a media room can be made to fit all the requirements on a budget. The wiring can be hidden in discreet tubing to avoid  eyesores and tripping hazards.
More flexibility for guests
A small kitchenette is perfect for guests who stay overnight or just those that enjoy cooking healthy meals. They are compact and can fit almost any available space, with plenty of tricks to save space.
Above the countertop, a towel bar makes for a handy storage space that uses vertical gaps. Dish towels, utensils, pans and whatever else can be stored there without cramming the cupboards. Pegs will hold mugs, giving you more space for cookware.
A carefully placed light will make the kitchenette feel more spacious, though you can take out cabinets and use open shelving. This does reveal the contents of cupboards but also helps keep track of all the useless stuff you'd otherwise cram in a cupboard and forget about.
Marble or tile backsplash gives a classic, elegant look to the space as well, though the extent of this depends on your budget. You can use substitute materials where needed for the same look.
Something Different
A reverse living home design is a great excuse to give guests a tour of the house, ending with the upstairs vantage point that will wow them. People will naturally gravitate to novel experiences and will look forward to visiting again.
The upstairs furniture can be placed in the middle of the space, attracting the attention and naturally bringing together all the visitors. If there are sets of sofas, chairs or recliners, they can be faced towards one another to encourage interaction. Pastel colours and natural elements give more warmth and close the distance between people.
If you want to create a sensation of luxury, go with delicate chandeliers, majestic furniture and extraordinary ornaments. The living space can be organized in a U or L shape, though plan ahead and leave enough space to move through the area. Dot the space with plants that have a woody stem and interesting growth patterns, such as the money tree (Pachira aquatica).
Curb appeal
Viewed from the street, these houses have a formidable street presence, attracting the gaze and setting themselves as the most prominent house in the area.
Dedicated space for pets
Giving a puppy its own space from the very first time it visits a house is a crucial part of housebreaking. Choosing a spot for the dog's bed or crate from which it can immediately see who's coming through the door or up the stairs is perfect. Thanks to the flexible reverse living design, there's also plenty of space under the stairs for dog food or toys.
For cats, the lounging area where they can sunbathe is perfect but so is giving them a cat tree or making a dedicated corner with vertical obstacles they can hop on. Other pets shouldn't feel left out either, so an aquarium can fit the upstairs living area easily and so can a terrarium.
Drawbacks of Reverse Living
There are few drawbacks as well, which are most often due to your lifestyle, preferences and handicaps.
More Stair Climbing
Dogs can suffer a lot if they constantly climb the stairs, especially if they're prone to having hip issues. That applies to adults and elders as well, who can feel their knees creaking and backs aching, especially if they regularly carry heavy items upstairs.
Of course, the house design can be made accessible to animals and people with disabilities. A stair lift makes for a cosy ride, with slip mats and guard rails preventing dangerous falls. A small crane or hoist can be installed on the second-storey balcony to help you bring the groceries up in one go.
Any problem you have can be worked around to make the house uniquely yours and as comfortable as possible.
Sleeping Downstairs
Downstairs sleeping is not an option for some people, who feel more comfortable upstairs. For example, maybe you have just spent your entire life sleeping in upstairs bedrooms. The sudden change may be a difficult change in habit.
Whatever the source of discomfort, it can be worked around by tweaking the home design until you arrive at what feels perfect.
Reverse Living House Plans
Here are some of our reverse living home plans. They can give you inspiration or show some ways a design can tackle some commonly encountered issues.
The entrance is inspired by the majestic feeling of a cathedral, with flawless polished concrete flooring on the ground level contrasting the Blackbutt Timber Flooring on the second storey. The central staircase has frameless glass balustrading, separating the adult living area upstairs from downstairs areas for kids.
North-facing view out the front of the block is the main feature of this design. The tour of the interior starts at the entry deck flanked by a spacious garage. Straight ahead is the staircase leading to the second storey, with an open study nook and a private master bedroom. The façade features a skillion roof, timber posts and a feature shroud.
Designed for a block that slopes downward to the road and with front-facing views, timber posts are an excellent choice for this layout. Proper solar orientation is the key to a finely balanced distribution of shade and sun throughout the year. The ground floor is compact, giving plenty of space to be made into a home office or third bedroom.
Let Pivot Homes Build The Perfect Reverse Living Home For You
A home is only as comfortable and functional as the design allows it. Reverse living home designs are a novel, Scandinavian approach to balance between comfort and function, so do consider them.
Sketch out your ideal home design, jot down your goals and priorities and get in touch with us. We'd like to hear your thoughts and help you design and build a home in Geelong, Australia, and the surrounding area.