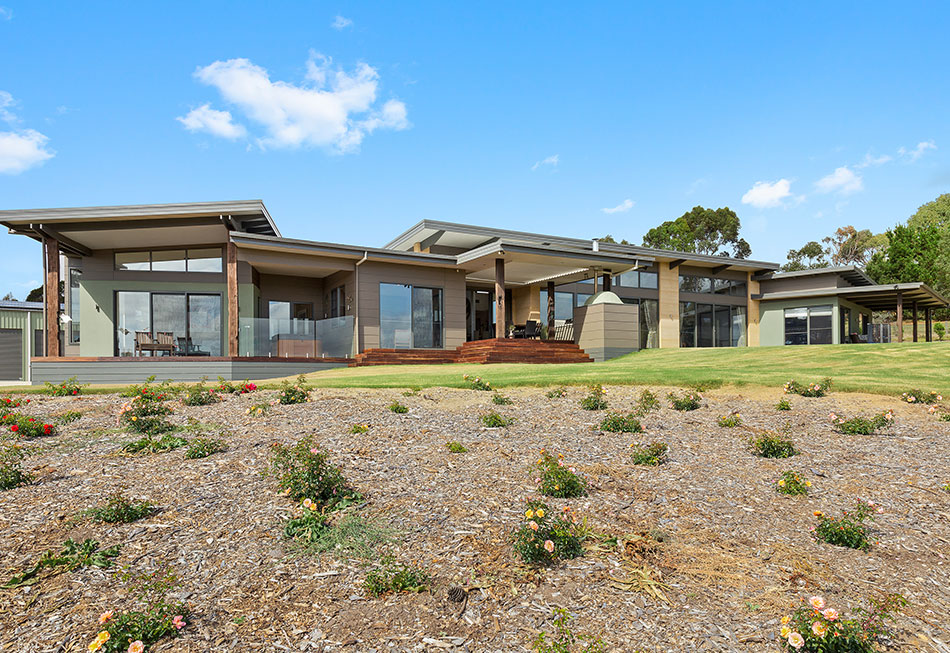 Designing for a North Facing Frontage Block
Designing a home calls for many choices that will only have a visible effect when the house is fully constructed. One such choice can profoundly change the way your home feels for the people inside — which direction it faces and designing for a block where North is to the street frontage is one of them.
Houses designed to take advantage of the northern sunlight makes their indoor spaces feel livelier and more spacious, and even helps indoor plants grow better. Sunlight improves the mood and is a universal disinfectant as well, making whatever place it shines on happier and healthier.
Good orientation can increase the energy efficiency of your home, making it more comfortable to live in and cheaper to run. – Australian Government
Here's what you should know when looking at a design for a north front facing block.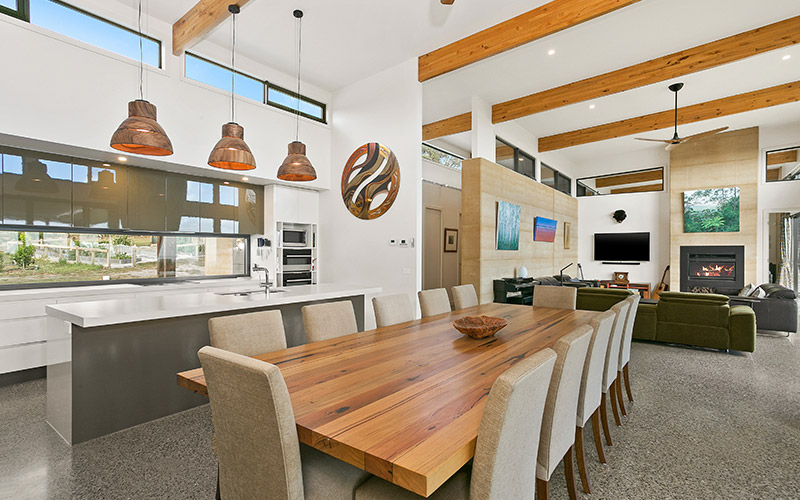 Why House Orientation Matters
House design is all about determining your needs and optimising the house construction choices to fulfil those needs within your environment. In the case of house orientation, the angle at which the sun hits the house determines the amount of natural light getting inside and the amount of energy needed to cool the house.
A north facing street frontage is generally considered to be awkward to design a home for in Australia, where the summer heat is most often sweltering, and the winters are mild. However, a professionally designed north-facing home can take the edge off the summer heat and use the warm winter sunlight, providing a pleasant living space all year round.
There are other considerations related to house orientation as well, such as strong gusts of wind carrying rainfall straight into the same side of the house over and over, causing dampness issues. During dry periods, that same wind can kick up dirt at the house or, in the worst-case scenario, right inside the house. You most certainly would not want a mouthful of dirt whenever you open your front door!
There are ways to overcome all those challenges by working with a skilled Design Team. For example, deciduous trees in the garden on the north side of the house will block the summer sun at its strongest and insulate the house. When leaves fall off, the bare branches will let the winter sun through.
By designing your house in accordance with your environment, you not only get a liveable building but a shelter that is a warm, welcoming place for all seasons without excessive energy consumption. People feel safe, relaxed and cosy in and around such a home, which also boosts the property value.
What is a North-Facing Front Block?
A north-facing frontage block is a property that is accessed from the north, which all but mandates that the front areas of the house on such property also face north.
In general, the single level house footprint will incorporate a courtyard with its living areas to the rear of the house, which certainly gives the opportunity for more sunlight to enter the home. Given that many blocks released today are quite narrow, the ability to get sunlight into a single storey home can be quite a challenge. This is since a double garage usually takes up at least 6 metres of the width of the blocks which results in the living areas feeling dark and quite cold. A good design team will identify these issues before construction and suggest workarounds.
Another option you may wish to consider is a two-storey home, with an upstairs living area and downstairs bedrooms. This gives you the chance of having lots of north-facing living areas, such as in the Surf Coast 32 home design.
It is an efficient design that provides all that beautiful northern sun from the first floor. The front deck is seamlessly connected to the kitchen that features a walk-in pantry, providing a splendid way to welcome and entertain guests. Timber posts, feature shroud and the skillion roof frame the first impression from the street. Rumpus, three bedrooms, spacious storage and a backyard connection are on the ground floor, while the upstairs features an open study nook and a private master bedroom suite.
How Important is a North-Facing Aspect?
In Australia, a north-facing aspect on the house is the one most exposed to heat and light. From the northwest, there are also strong hot winds that can mercilessly beat on the home and transfer heat into it. From NE, SE and SW directions, you can expect cool breezes of variable strengths, but you can't count on them for cooling. This is because we all expect the climate to keep getting warmer, with ever-stronger heatwaves in the summer. Future-proofing your house against the heating effect of sun in the coming years is going to minimise the upkeep costs and maximise your enjoyment of the home.
Solar collectors and clothes drying setups should also have as much access to the sun as possible. Any areas where you expect water to spray, or pool should be exposed to the sun to facilitate drying and avoid moss, lichen and mould.
By employing a good passive design and creative solutions, all challenges can be overcome, giving you exciting opportunities to not just have a beautiful, functional home but also have it in a unique spot.
Which Rooms Should Face North?
By default, living rooms should face north but this can be changed depending on your preference and the local geography. For example, if you enjoy toastier bedrooms and colder living rooms, the floor plan can be adjusted to reflect that. As you articulate what it is that makes you feel comfortable, we will iterate floor plans until we reach what works for you in the spot your block is in.
We advise that you first figure out which rooms you will be spending the most time in and then we'll build the floor plan around them. Take your time and do not make snap decisions. We love helping our clients discover and articulate what it is that makes them happy in their homes. That moment when all the pieces fit together like a big puzzle and we see the look of childlike joy on the faces of our clients is what makes us proud to be designing homes.
What if Your Block is Not North Facing?
North is somewhere on your block and therefore you should aim to have the living areas facing north as much as possible, with an acceptable tilt of 29-37° from the west-east axis. This is because you will be able to use standard overhang eaves to block out the summer sun (37 Degrees) while allowing the winter sun in (29 Degrees). The best part is the occupants do not have to put in any extra effort and there's no additional cost if everything is designed and orientated the right way.
All available block space should be utilised to the maximum extent possible, for example by putting solid walls towards sources of noise to minimise your exposure to it. That leaves you with plenty of manoeuvring space and a lot of choice as to how to design your property boundary.
If you have expert home designers in your employ, there is no need to worry. You can find solutions to any problem and get the best out of any situation that arises. The secret is looking at the entire block's features and using them to benefit the house design.
Designing the Home for Orientation
Orientation is just one aspect of an ideal home and should consider factors such as the size, slope and unusual features of the site. We found that, whenever there's challenging terrain on a building site, there is also a tremendous opportunity for a splendid view when the house is finally built.
Your home should suit your lifestyle and check as many boxes in your ideal home checklist as possible. Do you like sunrises or sunsets? Does looking at a garden delight you? Will your idea of a perfect home change when you retire or expand your family? You can also start by writing down what you want to avoid, which will help you narrow down the choices.
When done right, proper orientation limits greenhouse emissions and provides the most benefit out of the sun's trajectory throughout the year. For more on orientation and solar exposure measurements, use this handy guide by the Australian government.
Designs for West Orientation
For west-facing blocks, the goal is to situate the house in such a way to get enough outdoor space in the north part of the block. This kind of block orientation also means you are most likely going to be overshadowed, especially where multi-storey housing is abundant.
Slopes can complicate the matter as well and it is possible that none of the houses in the vicinity get enough sunlight. North-facing slopes are ideal, allowing all neighbours to share the sun, even if their blocks are smaller.
Designs for South Orientation
The house should be set to the south, with room for a garden on the north side of the block. The ideal block is wide enough to allow entry at the front while providing enough privacy for the north-facing indoor areas.
Where planning permits, aim to place a garage or a living courtyard to establish a more defined boundary along the northern edge of the block.
Designs for East Orientation
The house should be on the southeast side of the block, with the backyard fully illuminated. In medium-density areas, party walls can serve as thermal buffers, with specially shaded and carefully designed windows facing west or east providing solar heating of the floors.
Designs for North Orientation
North-facing homes should be at least 6 metres away from a single-storey obstacle that might block the winter sun: 11 metres from a double-storey obstacle. Large openable windows near the ceiling and carefully planned eaves block out the scorching summer sun and create a cooling draft but allow the winter sun in.
These clerestory windows allow you to capture the heat from the sunlight when it hits the thermal mass. Keep in mind clerestory windows are fiddly in colder climates, where they can cause too many cold drafts to be worth the trouble.
Letting the Light In — Benefits of Sunlight
There are two main advantages of admitting sunlight in your house. Firstly, the house will feel lighter and more inviting. Secondly, and just as important, you will get a steady stream of sunlight bathing the indoor areas of your home, giving you a gentle heating effect in the winter.
Daily exposure to sunlight also helps your body produce vitamin D and, as you tone down on the use of artificial lighting, regulates your sleep cycle. When you sleep well you become more productive and, if you're working in a sun-bathed room, you'll also feel peppier.
How Sunlight Increases Property Value
Warm, diffuse natural light makes the colours pop and accentuates the symmetry of the house design. It also adds dollar value to the property, with one US-based architectural firm stating that sunlight can add 20-25% value to a property, at least when it comes to lease agreements. It makes sense that the entire property, including outdoor areas, benefits from sunlight that makes every setting a spectacular one, no matter if you are just lounging or engaged in serious work.
There are many blocks of land in Victoria within the Pivot Homes service area of Geelong and the Bellarine Peninsula that have some great views. All is not lost when it comes to a north-facing front block, since with a good design you'll be able to build a home that has natural light, and a skilled designer will design the home to suit a north-facing orientation.
Trust Pivot Homes To Design The Perfect Home On Your North Facing Block
North-facing frontage blocks are certainly a challenge, but we see every building site as an opportunity to tame a piece of the wild and turn it into a loving, nurturing home.
There are many such homes on north-facing blocks, contact Pivot Homes and we'll help you build your very own.