Concrete vs Fibreglass Pools for your Home
When it comes to your backyard swimming pool, you have a choice between concrete and fibreglass.  So what's the difference?
If you are looking for a particular shape in pool design, then concrete is the perfect choice as they can be built to any shape or size that you desire.
Concrete Pools
Concrete Pools can be built in just about any location, and you can install them inground or above ground. Pouring the concrete for a concrete pool is the same as pouring a concrete slab. The shape is formed up with steel ensuring the concrete stays in place. Once it cures, its ready for treatment and water.
You can also add many features to a concrete pool including islands, pebble beaches, split levels, or even a disappearing edge.  You can finish the inside off with a wide range of different finishes. Some of the options include paint, pebblecrete, marble sheen, fibreglass or quartz-coloured cement render.  Be aware that concrete pools take a while to install.  You can be looking at around ten weeks for the entire install process to be completed.  They can also be a more expensive option depending on how complicated your site is and what finishes and optional extras you choose.
Fibreglass Pools
New advances in fibreglass technology means Fibreglass Pools are now a popular and viable option.  There is a range of benefits to choosing a fibreglass pool shell. Fibreglass pools come in all different shapes, colours and sizes are incredibly easy and fast to install.  Once you've council's approval and the excavation has been complete, you can be swimming in a matter of days.  This is in stark contrast to installing a concrete swimming pool.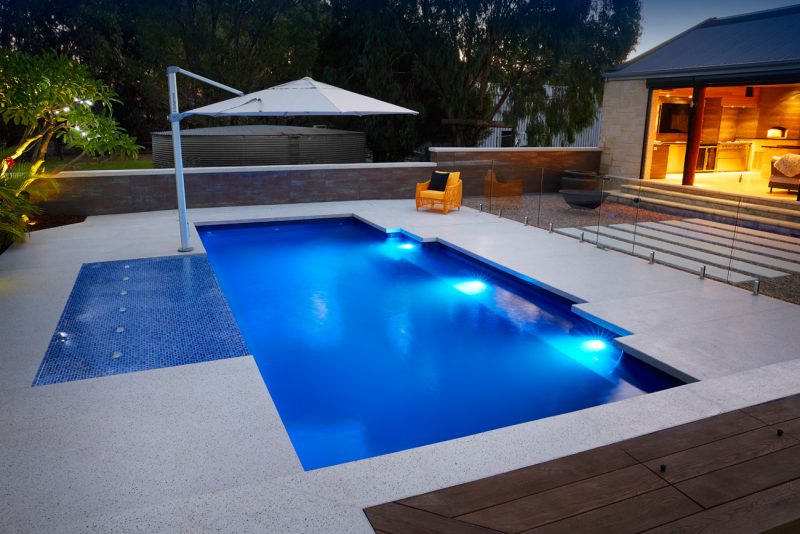 Fibreglass pools have a smooth finish with no rough edges for the kids to scrape themselves on.  The smooth finish also creates little to no maintenance and they're easy to clean whilst resistant to algae and staining.  And you can easily add any of the optional extras such as pool covers, lighting, heating, water features and so on, to help you create the pool that you've always dreamed of.