Building Site Costs: What Are They And How Much Are They?
After months, years or even decades of hard work and planning, you are finally ready to build your new home. It could be that dream home on the hill you always envisioned retiring to. Maybe it's the sort of home you've always wanted to raise a family in. Whatever the case, it is an exciting move.
However, construction is not all stacked stones and ribbon cutting. You need to prepare yourself if you wish to have a successful home construction project. One of the most important things to understand is site costs. This is what you will have to pay to prepare your block for the actual construction. This post covers all you need to know about what these costs are and what determines them.
Factors that determine how much your project will cost you
Before we get into the numbers, it is important to know that not all projects cost the same. For the most part, the construction business sets its own price based on the quality of work offered and the professional level of their teams. However, there are numerous other variables that contribute to the final figure when it comes to building site costs.
Location
Generally, homes built in more rural parts of the country incur higher site costs. This is usually due to the inconvenience suffered when it comes to transporting materials as well as the extra effort often required to connect amenities.
The Slope/Terrain
This is one of the most important factors influencing site costs. When it comes to slope, the flatter the land, the less you have to pay. With slopes and uneven terrain on the other hand, a lot has to be done to ensure stability, whether it is leveling or using steel for the foundation and the structure.
Terrain also covers things like vegetation that may have to be removed. Again, it goes without saying that a clean block will cost you less to develop than one overrun by trees and ground vegetation.
Foundation Class
The nature of the block being built on is classified based on the type of soil. The most preferable type is sandy soil, which is considered least reactive and least likely to move. Clay, on the other hand, is undesirable as it is considered a highly reactive and unstable soil for foundations. When it comes to site costs, developing on clay soil will cost you more as measures have to be put in place to ensure the safety of the structure.
Building Size
All variables aside, most construction companies determine site costs based on the size of the home. However pricing can vary depending on all the other factors that may be involved.
Home Design and Layout
What type of home are you planning to build? How many storeys will it be? What is the general layout you plan on having? Answering these questions will help determine the type of foundation and ground slab your building requires. This in turn determines things like the materials and excavation depth required for stability.
Double-storey homes cost 30% more to build than single-storey homes of the same size. – realestate.com.au
Materials
Site costs are also greatly influenced by the materials you will be using to build the home. In general, if you are planning on using light materials like wood then you will pay less than if you are planning on building a concrete structure.
Type of Slab
There are generally 3 types of slabs set up on construction sites. These are the waffle slab, raft slab, and suspended slab. The type used depends a lot on the type of structure being built as well as the foundation class and the slope. The prices also differ between companies but generally the waffle slab is the more affordable option.
What do site costs include?
The cost of preparing and working on a building site is not just some random figure. It can be broken down into a number of smaller charges. Some of these are fixed, which means that you pay more or less the same rate despite all the variables highlighted above. The other group of costs is variable and changes depending on the factors discussed in the previous section, including the business's policies ie quality (what the builder believes is better). Below is more on specific expenses you will encounter on the project:
Fixed Costs
Soil Testing and Surveying
These tests are done to determine the type of soil and the slope of your block of land. As earlier discussed, this has a huge bearing on determining the overall site costs. The testing and surveying is done by professionals hired by your builder. Either way, a report is required before approval for building is given.
A thorough soil test includes the collection of samples and laboratory testing to establish ground movement estimates for all sites. This additional investigation and testing allow us to include recommendations for common footing design issues such as removal of trees, growth of trees, site excavations or removal of existing buildings prior to construction. This provides certainty for the design of footing systems, in particular on Class P – Problem sites – Nathan McLaren – PJ Yttrup and Associates.
Utility Connection
These include things like gas, water, sewerage and more. They are often laid down during the site construction. For the most part, connection to the main grid networks is the same price regardless of the structure size and design when it comes to the site preparation phase.
However, when it comes to the actual building, then the number of rooms you want connected will further influence the final cost. This is separate from the site cost.
Termite Protection
This is often a requirement for building permits especially where wood structures are to be involved. The price is usually more or less the same with most companies.
Variable Costs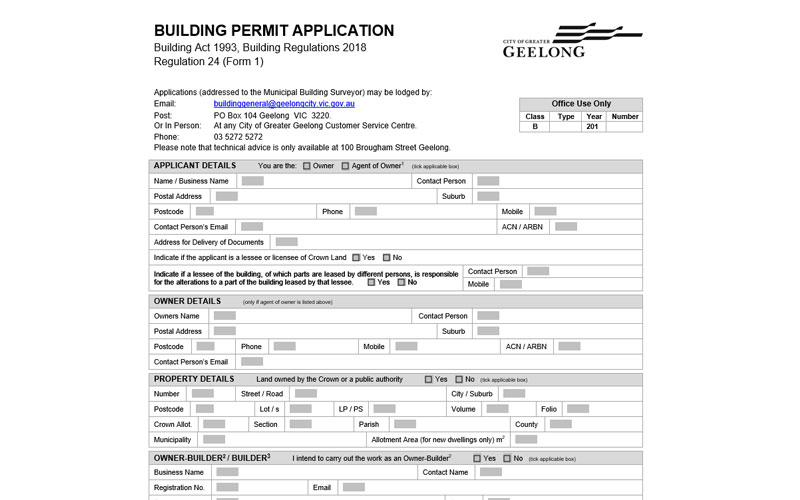 Building Permits and other requirements
You need official approval before any work can be done on your site. This includes everything from noise licenses to building permits and usually covers the entire project and not just site work. To get this approval, you will have to pay some fees. The amount is usually a fraction of the site costs depending on the specific covenants as well as the type of construction.
Helpful Resource: Checkout Consumer Affairs Victoria's Plans and Permits Checklist.
Site Preparation
Site preparation refers to all the activities done to ensure that the land is ready for building on. This includes clearing vegetation, moving rocks, leveling the ground and so much more. This cost varies with soil type and terrain.
When it comes to excavation you never know whats underground. Most builders will submit an enquiry with Dial Before You Dig during planning and prior to excavation. This will help determine if there are any assets under the ground such as an easement, water or gas main that are nearby the build or excavation area.
Dial before you Dig is a free service for builders, trades and consumers. You can lodge a free enquiry your self at any time.
Security
This is one of those site costs that are often overlooked by clients when budgeting for site work. Security is one of those things that you simply cannot afford to compromise on. More often than not, a simple temporary perimeter fence is all that you need to ensure that your property is safe.
However, in some locations and in some rare situations you may have to hire actual guards and set up surveillance for an extra layer of protection. Either way, it is an important cost that you definitely need to factor into your planning.
Construction Materials
Another place where your investment will be going is towards purchase of materials required. This is one of the expenses that take up the biggest part of the budget with this part of the project. The amount is determined by the size of the building and the design.
With buildings located on slopes or uneven terrain, this budget will also include measures to ensure structural stability. This includes steel, extra soil, retaining walls, and so on.
So how much does site work cost when building a home?
Now that you know all the specific costs involved, the next question to answer is how much these expenses usually amount to in total. Well, there is no solid answer for this. As evident in the sections above, most of the costs are variable and depend on a significant number of factors. Then there is the fact that different companies set their own independent rates.
While it is impossible to accurately narrow it down to a specific figure, it is possible to get a rough estimate.
General site preparation costs between $5,000 and $70,000. On the lower end of the spectrum you have medium sized buildings on flat blocks in more developed parts of the country. On the other hand, the higher end of the range features sloping block building sites and large elaborate designs.

What about Site Cut / Excavation Costs?
First of all, what is a site cut?
This refers to the process of preparing the land for the rest of the site work. It often involves excavation of a piece of land whose specific dimensions are predetermined for optimum structural integrity of the entire property once construction is completed.
Site excavation is an incredibly important and delicate process that requires expertise to be pulled off properly. It also requires very specific tools and machinery. For this reason, it is one of the most expensive parts of the site work.
On average, you can hire a digger and operator for between $200 and $600 per day. The average total cost for a site cut is around $1200 and $4000 depending on the project.
How to protect yourself from unexpected costs
After all is said and done, site costs can run really high. However, if you are wise you can avoid unnecessary spending that is inevitable for uninformed property owners. Here are a few tips and tricks that should help you save as much as you can without compromising on the quality of the site you get prepared.
1. Always compare costs from different builders
It is never a good idea to settle for the first construction company that you come across. The best thing to do is to shop around and figure out what other businesses have to offer.
This is important mainly as it gives you a more accurate idea of what to expect in terms of costs. That way you do not end up paying too much for a service or settling for poor quality with a lower price tag.
2. Look out for promotions and discounts
There are several companies around that regularly offer discounts on site costs. Finding one would help save you a lot that you could redirect to other parts of the project. However, it is very important to beware of some of the promos and offers out there as they often come with a serious compromise on quality. So if the deal looks too good to be true, then run for the hills.
3. Ask for a detailed breakdown of all the costs
Remember all the costs discussed earlier? These should make an appearance on your final quote. A good business will give you a detailed breakdown of the final bill. This is a sign of transparency and ensures that you do not end up incurring any unnecessary costs. Getting this breakdown also allows you to identify places where you can cut on costs as long as it doesn't undermine the overall quality of the work.
4. Minimise site work by going for custom designs
Most expenses related to site work are as a result of unfavorable grounds. You will not always find a nice flat plot just ripe and ready to build on. With slopes especially, one way to save money is by designing your new home to suit the land instead of altering the land to fit your design.
With custom designs, you get to take advantage of the land's natural slope with little if any change. So no leveling costs. No additional soil and retaining walls. It will save you a lot of money in the long run.

5. Work with reputable builders
Sometimes it is not just about saving money but instead getting the best value for your investment. One way to ensure this is by working with experienced professionals. Finding a reputable building company means that you do not have to worry about things like shady pricing, unreliability when it comes to a deadline, or underhanded deals.
The best way to determine how good a building company is would be by going through their Google reviews and client testimonials. Here, you get a pretty accurate picture on exactly what to expect from the company that you are considering working with.
6. Understand all the costs and variables
Finally, you can easily save on site costs simply by understanding them. Understanding what you are paying for and why allows you to identify ways in which you can save money during the project.
For example, if you know that slope and soil type affect the price tag then you will probably not rush to buy that block on the marsh or on a hill. It also gives you bargaining power with variable costs as you actually know what to ask for from your builder.

7. Resources
There are some great free resources to assist you with getting the most from your site costs. Here are a few:
Bottom Line
With all this information on site costs and what variables influence them, you should be able to make very informed decisions on your project. The most important thing is to ensure that you work with trustworthy and experienced site preparation professionals.
So do more research on the specific variables on your block of land and talk to a few builders for an estimate of how much it will cost you. That way you can get your budget in order and start what will likely be one of the most important projects in your life.
Pivot Homes are a local Geelong and Torquay custom home builder has been designing and building homes from the ground up for almost 30 years. We would love to add you to our long list of satisfied homeowners.